Why Should You Experience True 4K Quality with CableCreation's Certified HDMI Cable?
Technology and entertainment are rapidly evolving, and consumers are constantly seeking better ways to experience their favorite content. With 4K displays becoming more common, having a high-quality HDMI cable that can deliver actual 4K resolution is essential. This is where CableCreation's 4K certified HDMI cable comes in.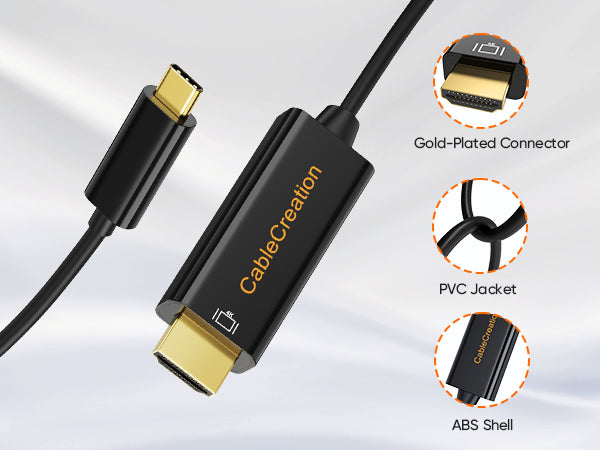 What is a Certified HDMI Cable?
HDMI stands for High-Definition Multimedia Interface, a digital interface that transmits audio and video data between devices. A certified HDMI cable has been tested and verified to meet the latest standards for high-speed data transmission. These cables are designed to deliver the best possible performance and ensure compatibility with the newest hardware and software.
How Does the CableCreation's 4K Certified HDMI Cable Work?
CableCreation's 4K certified HDMI cable is engineered to support the latest HDMI standard, enabling 4K Ultra HD video transmission. This means you get a smoother, more detailed picture with vibrant colors and deep blacks. The cable also provides a more comprehensive range of colors and contrast for an even more immersive viewing experience.
The cable has high-quality materials, including gold-plated connectors and triple-shielded wires. This design ensures the signal remains stable and consistent over long distances. The line is also backward compatible with older HDMI standards, so you can use it with older devices without any issues.
Benefits of Using CableCreation's HDMI Cable
One of the main benefits of using CableCreation's 4K certified HDMI cable is that it ensures you get the best possible picture quality from your 4K display. The cable is designed to deliver a stable, high-bandwidth signal, so you don't have to worry about dropouts or artifacts. This means you can enjoy your favorite movies, games, and TV shows in stunning detail without distractions.
Another benefit of using this cable is that it's incredibly durable. The triple-shielded wires and gold-plated connectors ensure the line won't break or degrade over time. This makes it an excellent investment for anyone wanting a reliable HDMI cable that lasts years.
Compatibility and Ease of Use
CableCreation's HDMI cable is compatible with various devices, including 4K TVs, gaming consoles, Blu-ray players, and streaming devices. It's also easy to use - plug one end into your device and the other into your display, and you're ready to go. There are no drivers or software to install, and the cable supports plug-and-play functionality.
The cable comes in various lengths, ranging from 3 to 10 feet, making it suitable for any setup. Whether you need a short line for connecting a laptop to a monitor or a long line for running between rooms, CableCreation has got you covered.
Conclusion
In conclusion, if you want to experience true 4K quality from your display, CableCreation's 4K-certified HDMI cable is an excellent choice. It's engineered to deliver a stable, high-bandwidth signal supporting the latest 4K video. The cable is also incredibly durable, ensuring that you'll get years of use out of it. With its compatibility and ease of use, this cable is a must-have for anyone who wants to get the most out of their 4K display.
---