Why Elevate Your Home Entertainment Experience with CableCreation's 4K Certified HDMI Cable?
The world of home entertainment has undergone a significant transformation in the past few years. With the advent of high-definition displays and devices, consumers now demand crystal-clear visuals and immersive audio experiences. One of the most significant developments in visual technology has been 4K resolution, which delivers four times the pixels of 1080p Full HD. However, to fully enjoy the benefits of 4K content, you need a reliable HDMI cable to have the data at high speeds.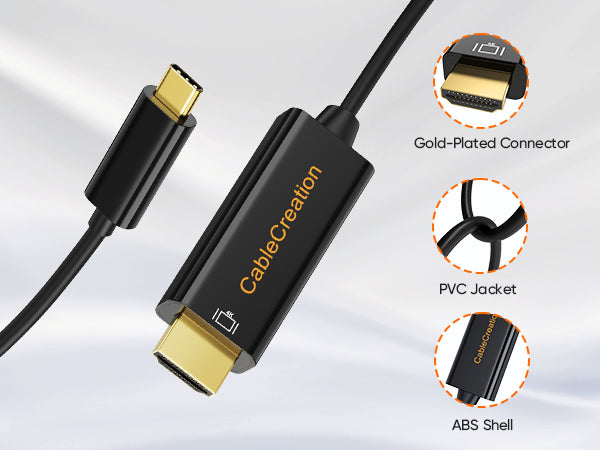 Introducing CableCreation's 4K Certified HDMI Cable
CableCreation has introduced its 4K-certified HDMI cable to meet the growing demand for high-quality HDMI cables. This premium-grade cable is designed to provide seamless transmission of 4K content without losing quality or signal degradation. It is built with high-quality materials that ensure durability and longevity, making it an investment lasting for years.
Unmatched Performance and Compatibility
CableCreation's 4K certified HDMI cable is more than just a cable; it is a gateway to a new world of entertainment. Its advanced design features ensure it can easily handle the latest generation of 4K content. It also supports up to high data transfer rates to enjoy lag-free, buffer-free streaming of your favorite movies, TV shows, and games.
Moreover, this cable is compatible with most HDMI-enabled devices, including 4K TVs and monitors, gaming consoles, Blu-ray players, and set-top boxes. CableCreation's 4K certified HDMI cable can deliver the perfect audio-visual experience.
Built to Last
One of the biggest concerns with HDMI cables is durability. Frequently plugging and unplugging can damage the cables over time, leading to signal loss or complete failure. However, CableCreation's 4K-certified HDMI cable is designed to withstand the rigors of daily use. Its robust jacket protects the cable from external damage, while the gold-plated connectors ensure stable signal transmission.
The cable also has a unique strain relief design that prevents the line from getting twisted or kinked, which can reduce its lifespan. Plus, it comes with a warranty, giving you peace of mind knowing you're covered for any defects or issues.
Aesthetics and Convenience
CableCreation's 4K certified HDMI cable offers not only top-of-the-line offers top-of-the-line performance and looks good while doing it. The cable's sleek and modern design complements any home entertainment setup. Its flat and flexible shape makes it easy to route through tight spaces and behind furniture without causing unsightly cable clutter.
The cable comes in various lengths, ranging from 3 feet to 10 feet, allowing you to choose the perfect size for your needs. Whether you need a short cable to connect your laptop to your TV or a long line to wire your home theater system, CableCreation has got you covered.
Conclusion
In conclusion, if you want to enjoy the full potential of your 4K-enabled devices, you need a high-quality HDMI cable that can handle the data transfer rates and provide seamless transmission. CableCreation's 4K-certified HDMI cable is an excellent choice for anyone looking for a reliable, durable cable that delivers unmatched performance and compatibility. With its advanced features, sleek design, and lifetime warranty, this cable is an investment that will elevate your home entertainment experience to new heights.
---