Why CableCreation's MFi Certified Lightning Cable Is The Best Choice?
Are you tired of dealing with unreliable, flimsy lightning cables that break easily? Look no further than CableCreation's MFi-certified lightning cable. This cable is the perfect solution for anyone who wants a durable and reliable charging cable for Apple devices.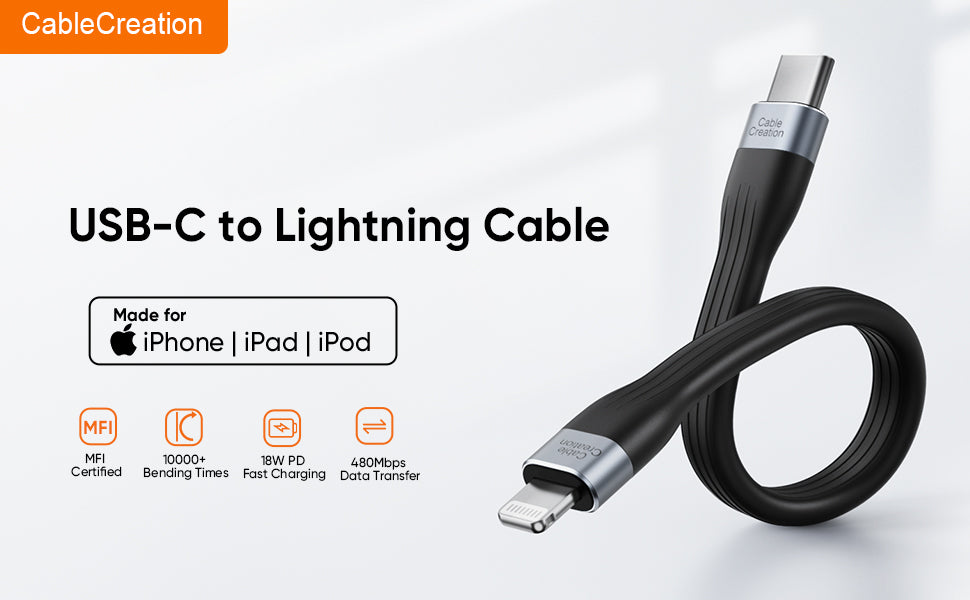 What is MFi Certification?
First, let's talk about what MFi certification means. MFi stands for "Made for iPhone/iPad/iPod," a program developed by Apple that ensures third-party accessories meet Apple's quality standards. When a product is MFi certified, Apple has tested and approved it to work correctly with their devices.
CableCreation's MFi-certified lightning cable has passed rigorous testing to ensure that it meets Apple's standards for performance and safety. You can rest assured that this cable will work perfectly with your Apple device.
Durable and Reliable
One of the biggest complaints about lightning cables is that they don't last very long. They can be easily damaged or frayed, which makes them unusable. However, that's not true with CableCreation's MFi-certified lightning cable.
This cable is built to last. The aluminum shell and TPE jacket make the iPhone USB A cable super durable. It can withstand daily wear and tear and won't break easily.
Fast Charging and Syncing
Not only is CableCreation's lightning cable durable and reliable, but it also charges and syncs quickly. With its 2.4A charging speed, you can set your device faster. You can also transfer data at speeds up to 480Mbps, so you can quickly and easily sync your photos, music, and other files.
Warranty and Customer Service
CableCreation stands behind its products and offers a warranty for all its lightning cables. If you experience any issues with your cable, contact their customer service team, and they'll help you resolve the problem.
Their customer service team is available 24/7 to answer any questions about the product or assist you with any issues you encounter. They're committed to providing excellent customer service and ensuring customer satisfaction.
Compatibility
Another essential aspect to consider when choosing a lightning cable is compatibility. CableCreation's MFi-certified lightning cable is compatible with many Apple devices. This broad compatibility ensures you can use this cable with multiple instruments, making it an excellent investment for anyone with various Apple devices.
Conclusion
If you're looking for a durable and reliable lightning cable that can keep up with your daily needs, look no further than CableCreation's MFi-certified lightning cable. With its fast charging and syncing capabilities, you can use your Apple device without interruption. Plus, with its MFi certification, you can trust that it will work seamlessly with your Apple products.
---