What do You need To Know Before Buying USB C Data Cable?
There are numerous advantages to USB-C data connections that you might not be aware of. Thanks to their compact, flat plugs, these cables may conveniently fit in a handbag, laptop bag, or backpack. They can transfer data faster than any other USB connector, an additional benefit. This can significantly increase your ability to complete your assignment!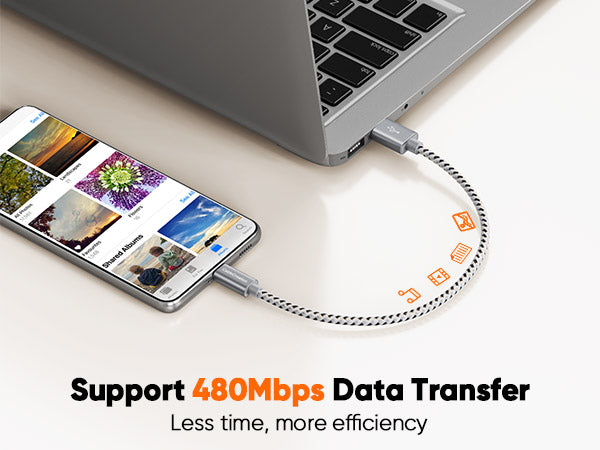 Essential Components
A USB-C data cable is required to transfer huge files between devices or connect your computer to a new display. When purchasing one, keep the following features in mind.
Type and Size
Although the kind can differ, most USB C cables are roughly the same length. Usually, cables are 1.8 meters (6 feet) or longer, which is more than adequate length for most jobs. But measure the distance if you require a longer cable. If you want to connect a device with a USB-C port to another with a conventional USB port or if you have many devices that use USB-C ports, you can use this kind of cable.
Data transfer rates and speed
Choosing the appropriate cable for your needs is critical because the data transfer rates for various connections can range dramatically. Typical USB 2.0 cables have a 5 Gbps bandwidth limit, whereas more expensive wires, like those produced by Apple, can reach 10 Gbps. A quicker line will make some data transfers (like sending large files) faster, while a slower line will make some transfers (like joining two devices close to one another) slower.
Standards for Resilience and Compliance
The most current industry standards, such as USB 3.1 Gen 2 and DisplayPort 1.2, should be followed by all USB-C cables.
The Advantages of a USB Type-C Data Cable That Will Make You Want One
A single USB C data cable that can carry both power and data signals makes it possible to streamline your cable management approach and reduce the amount of clutter on your desk or in your luggage.
A USB C data cable is made to be more durable and sturdy to tolerate being tugged or stretched repeatedly. It is more resilient than typical USB C data connections, which can easily break if bent or pulled too hard.
What Makes The USB C Data Cable A Good Option?
The USB C Data Cable is a fantastic choice if you're looking for a cable to enable speedy and straightforward data transfer. It is not only quicker than conventional USB cords, but it also offers better compatibility with more recent gadgets.
The speed of the USB C Data Cable is one of its key advantages. It can carry data up to 10Gbps faster than conventional USB cords, which makes it ideal for exchanging huge files or videos. The cable also works with USB Type-A and Type-C ports because it features reversible connectors.
The USB C Data Cable's interoperability with more recent devices is an additional outstanding feature. The cable's cutting-edge technology makes it compatible with gadgets like Apple's iPhone and Samsung's Galaxy, which use the newest platform architecture. The line works with more recent equipment and offers increased durability because of its reinforced design.
The USB C Data Cable is an excellent choice if you're searching for a solid, quick data cable that will function well with your newest devices.
Conclusion
The USB C data cable from CableCreation is crucial to upgrade your technology. USB C is the latest standard for data cables. You should buy one for the following reasons: quicker data transfers, support for future devices, and more. Always keep a USB C cable in your luggage, whether using your laptop at work or carrying around your phone!
---